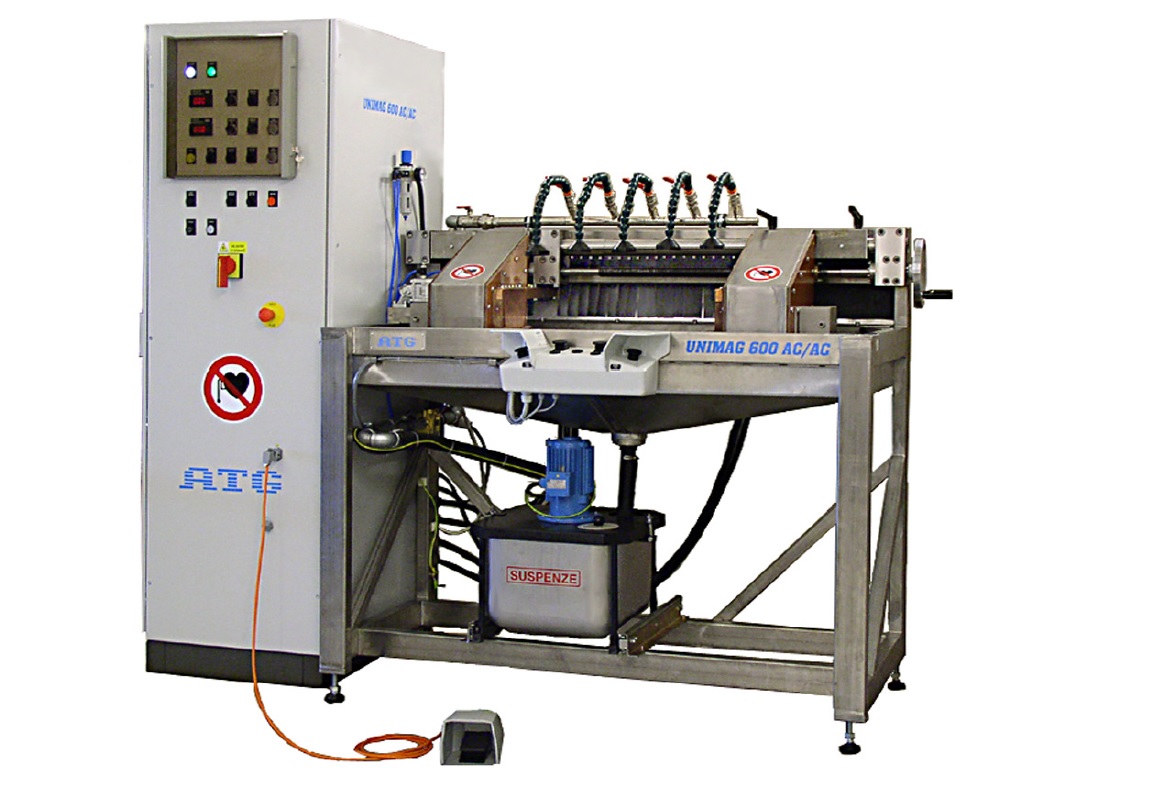 Horizontal magnetic particle inspection crack detector UNIMAG 600 AC/AC is designed for detection of surface defects in ferro-magnetic materials. This testbench allows application of different magnetizing techniques:
circular magnetization due to AC current flow through the tested part
circular magnetization of hollow parts due to AC current flow through the central conductor
longitudinal flux flow magnetizing
transformer magnetization – electric current induction on a hollow part surface by means of a central laminated Cu/Fe twincore bar
combined magnetization – simultaneous longitudinal and circular magnetization
The use of a laminated twincore bar allows combined magnetization of longitudinal flux flow and current flow. It is advantageous especially for testing of ring shaped parts. The PLC based control system assures preset of testing parameters – like current control, timing of magnetization, spraying time etc.. In the case of a higher differences between measured and preset values (oxidized contacts etc.) the magnetization is automatically interrupted.
DESCRIPTION OF BASIC UNIT: 
rigid frame from welded steel profiles
max. length of inspected part 600 mm (or max. 900 mm in the case of UNIMAG 900 version)
mass of inspected part up to 100 kg
pneumatic short-stroke clamping, clamping force 935 N at a pressure of 3 bars
stainless steel operation tank
pneumatic supply system for clamping if inspected parts (nominal 5 bar requested) – prepared for connection to existing pressure air source (compressor, pressure bottle),
pressure air source is not included to the basic delivery
manual suspension flow rate control valve with hand-held suspension spraying
suspension time control and magnetization time control
electropneumatic valve for suspension controlled by timer
stainless steel suspension reservoir (volume 40 l) with pump and suspension circulation system
manual/automatic decaying demagnetization AC on the bench
manual suspension volume control valve
flat easily exchangeable contacts
twin push-button system – the operator must press both buttons to clamping/start the magnetization
OPTIONS: 
lockable control panel cover to protect unauthorised change of inspection parameters
touch screen, full PLC control (see picture)
external foot switch (industrial design)
spraying heads / showers – cat. no. 4807-12-05
on request adjustable stainless steel / plastic nozzles for suspension spraying
moveable UV lamp holder
inspection cabin for fluorescent MPI – cat. no. 4807-01-05
electric fan for inspection cabin – cat. no. 4807-01-23
Parameter
Unit
Series UNIMAG AC/AC
Catalogue No.
n
4807-12-00
4807-13-00
4807-XX-10
Clamping length
mm
600
900
*600/900
Circular magnetization AC
A
2 200
2 400
3 400
Longitudinal magnetization AC
Az
10 000
15 000
17 500
Max. weight of testpiece
kg
100
100
100
Power consumption
kVA
32
40
60
Power consumption
mm
10
Power supply
V / Hz
3 + PE 400 V – 50 Hz
*UNIMAG 600/900 HP have higher power and duty cycle 50%.