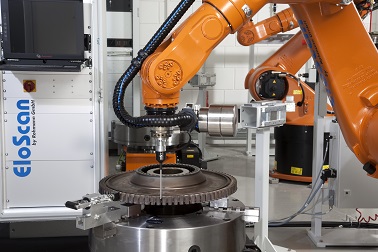 Outstanding Repeatability,
Accuracy and Flexibility
Automated
The automated EloScan eddy current inspection system has been primarily designed for the inspection of rotating symmetric components of aircraft engines. Because of its universal design, it can also be used for the inspection of other complex components where the probe must be guided
precisely along or inside the part.
Main components
The following items are integrated into the EloScan eddy current scan system and combined into a user-friendly system:
reliable multi-axis industrial robot for exact probe guidance
extremely rugged positioning drive with face plate (Ø 800 mm) to continuously rotate or exactly position the
component
hand-held programming device with graphic display
scanAlyzer software to record, display, analyze and document measuring data
electronics-cabinet
User-friendly
The system has been designed with user-friendliness in mind and can be set up for a different inspection within just a
few minutes. The operator can easily call up and carry out recurrent inspection jobs. The storage and evaluation of the measuring data as well the calibration with a reference standard can be accomplished fully automatic.
Documentation
A complete documentation is ensured by saving the position data of the probe or the probe system and the corresponding measuring data of one or more test instruments. The "raw data" that are acquired during the inspection can be stored on any mass storage medium or – if desired – be exported as a table with values.
Evaluation
The ScanAlyzer software lets the user evaluate, analyze and document the measuring results. For these purposes, the software offer various tools such as offline filter, offline phase rotation or offline gain. It is also possible to integrate customized "mathematical" filters. The software is based
on the new "layer technology" that lets the user acquire and evaluate the data of up to 128 measuring channels simultaneously. The individual layers can be offset against each other and the result can be displayed as a C-scan online during the inspection. Windows NT Workstation or Windows 2000/XP provides the powerful operating system.
In addition to scanning the surface of a part in a rotating or oscillating fashion with a pointed probe, the system is also able to inspect bore holes with rotating probes. These can be integrated into the inspection procedure.