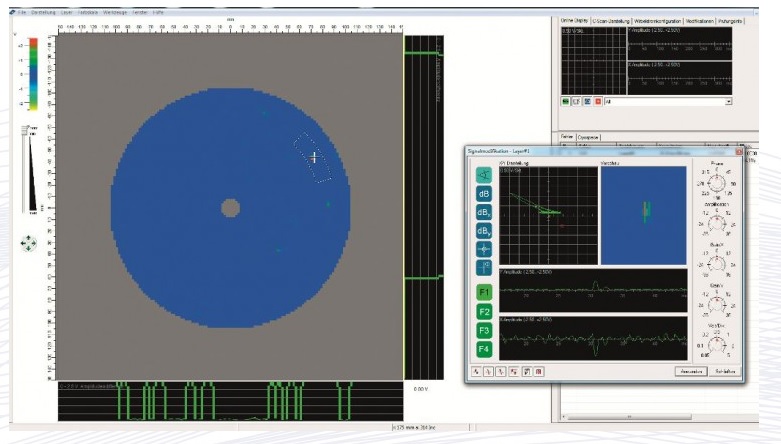 The ideal software tool to generate C-scans quickly and reliably
ScanAlyzer is universal software for inspection, documentation and analysis and is also suitable to quickly and reliably generate C-scans. Due to its serial-scan function it can be used to monitor production and maintenance. The ScanAlyzer-system combines a powerful PC-software with modern eddy-current inspection technology such as digitization, storage, analysis and automated evaluation.
Powerful and recognized by leading businesses
ScanAlyzer features numerous tools for an imaging display of the eddy-current signals. With the ScanAlyzer-system the signals and status can be analyzed and the inspection of safety-relevant parts in production and maintenance can be documented. It has been approved by leading manufacturers of aircraft engines, chemical companies and power plant operators.
Modular and expandable
In combination with the ELOTEST PL/IS500 or the ELOTEST PL/B300 you have a modular system that can be expanded and adapted to a wide variety of requirements.
The most important advantages at a glance:
modular design
possible adaptation of various test instruments via DLL-driver (even products by other manufacturers)
possible long-term defect monitoring
fast display due to 32-Bit programming
easy operation
the operator requires no prior knowledge of eddy-current technology as the administrator may preset all parameters
the high informational content of the C-scan images allows the restoration of the complex eddy-current signals, zoom-function and up to 10 highlighting and log areas for separate print-outs
unambiguous determination of the defect with information on size, angle and coordinates
automatic storage of the measuring data (evaluation and generation of reports based on the default settings installed by the administrator)
the "human factor" i. e. the influence of human weaknesses is minimized
Here are just some of the many different functions:
offline-display, selectable phase and vector length
color scales for real, positive, absolute, gate-dependent values
color scale with offset (may be spread/flattened)
color scale dependent on the phase angle and amplitude
offline-phase rotation and gain Reconstruction of complex X/Y-signals
geometric measurement of the defects via the cursor
signal measurement (Amplitude and phase) in the C-scan image
separate documentation of up to 10 defects with the corresponding zoom from the C-Scan
Scanner drivers:
rotor with analog depth measuring encoder
rotor with digital depth measuring encoder
X/Y-scanner manual with encoders
KUKA-robot (EloScan-system)
Instrument drivers:
ELOTEST B300 / PL300
ELOTEST IS500 / PL500