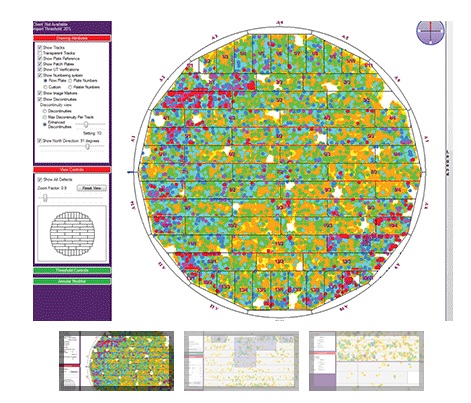 Silverwing Inspection Mapping Software (SIMS) reporting suite provides the most powerful and efficient means to create high quality reports on tank condition, and archiving of inspection results for traceability.
SIMS imports data from the Floormap3Di and automatically positions each of the separate plate files together to produce a CAD drawing of the entire tank floor showing the location and severity of all corrosion over 20% loss or specified value.
KEY FEATURES:
displays complete tank floor inspection data
automatic CAD layout when used with Floormap systems
CAD layout tool for manual recording
measurement tools for sizing areas of corrosion
patch plate design tool (includes API standardised plates)
incorporate Manual MFL, Vacuum box, MT, UT test results as well as visual observations
Top/Bottom defect views
comparison of historic inspections
UT prove up lists and data recording
free viewer for report distribution
Additional Inspection Data
A unique feature of SIMS is the ability to add results from other inspections carried out on the tank floor. Results from visual, ultrasonic, Handscan, MFL and even weld inspections can be added to the SIMS report to produce a complete 'fingerprint' of the tank floor condition.
Digital images taken during the inspection can be added to the tank data and linked to specific areas of the tank floor to add a further level of detail into the report.
Corrosion can be displayed as individual coloured pixels to provide precise information on the condition of specific areas of the tank floor. Alternatively the plates can be coloured according to the maximum corrosion detected on each track to provide an overview of the general condition of the tank. A 'Plate View' allows the operator to view tank inspection data in more detail. The precise position and estimated percentage loss of individual corrosion indications can be displayed by holding the cursor over a specific point on the plate. Tank Data imported from the Floormap3D has been further enhanced allowing the location of all top surface / bottom surface / combined corrosion to be available at a press of a button.
To complement the powerful reporting features, SIMS includes several tools to aid decision makers while evaluating the inspection data. A repair plate tool is seamlessly integrated into the software allowing the user to quickly design patch plate locations. Once all patch plates have been entered, the software will automatically produce a cutting list showing the total amount of material required to repair the tank. An innovative feature of the software is the data comparison tool, allowing the user to overlay two separate sets of tank data recorded on different dates and provide a direct comparison of corrosion growth at either the tank or plate level and assess as part of RLA/ RBI programme. The comprehensive and easy to use SIMS reporting and analysis tools are further enhanced with statistical displays and a comprehensive and customisable report printing tool.