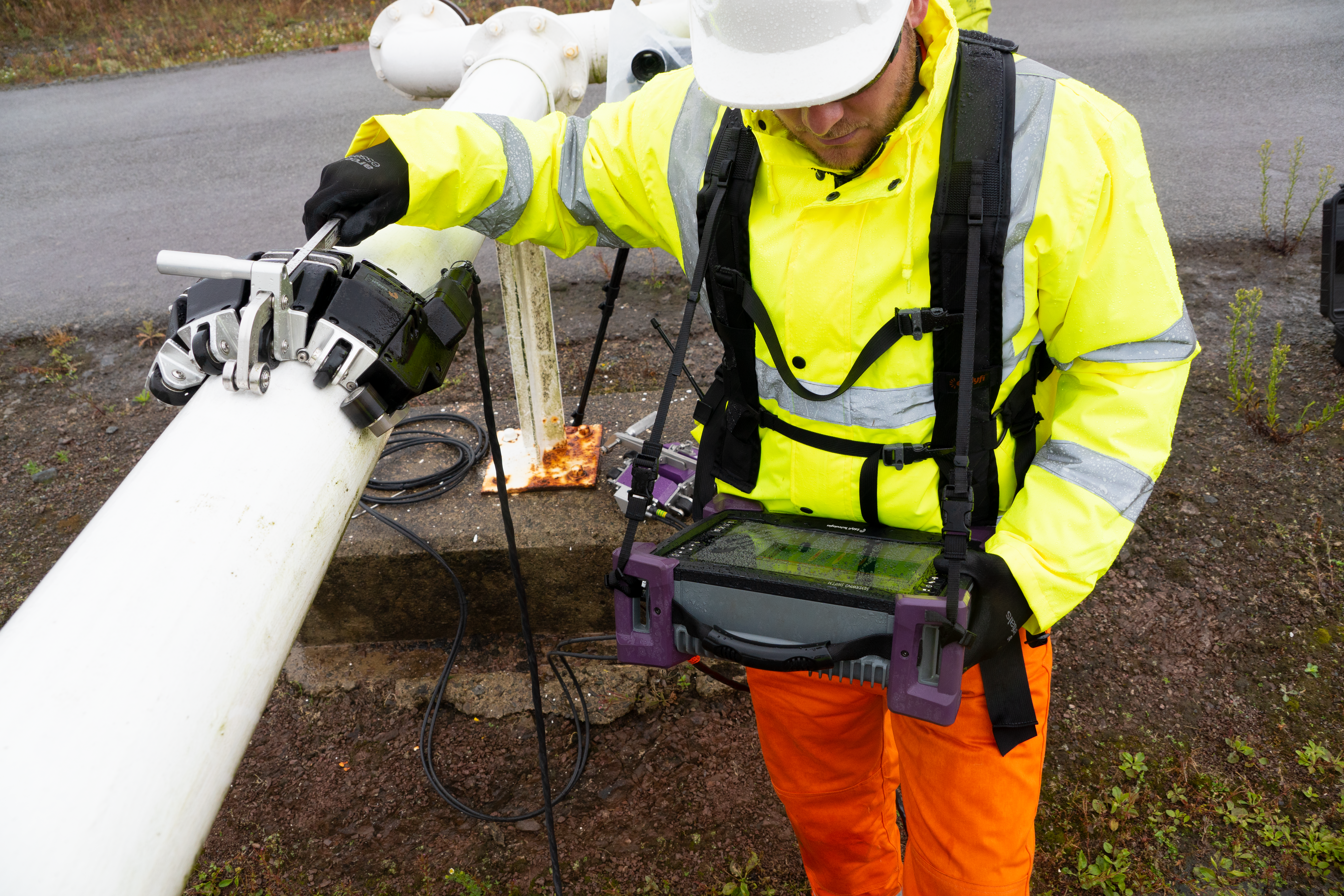 Swift M, when combined with the Pipescan or Pipescan HD is an easy-to-use, cost-effective, portable, Magnetic Flux Leakage (MFL) inspection system for rapid screening, detection, and mapping of corrosion in pipe runs and small-diameter vessels.
Swift M is a full-featured data acquisition instrument with mapping capabilities, real-time data display, onboard defect analysis, and automated reporting.
Features
Simple to operate with minimum training required
Fast, reliable pipe and small vessel corrosion screening and mapping
Flexible heads fit the full range of pipe and vessel sizes
High-probability of corrosion detection
Detection from Ø >1mm and 20% wall loss
In-service inspection at surface temperatures up to 60°C
Full data recording with adjustable reporting threshold feature
Swift-M
With a large, 26.4 cm (10.4 in), non-reflective, multi-touch display, Silverwing Swift-M offers crystal-clear views under any lighting condition. The instrument is sealed and designed for IP65. Its magnesium alloy casing is tough, as well as water and dust resistant. Combined with a 3 mm (1/8 in) strengthened glass, Silverwing Swift-M is perfect for harsh environmental conditions. Silverwing Swift-M comes with two lithium-ion, hot-swappable batteries, enabling a full day's work. An optional harness is also available to support the use of the system for longer periods of time. The adjustable rear stand, the top handle, and the four corner anchor points all make Silverwing Swift-M incredibly practical for on-site inspections.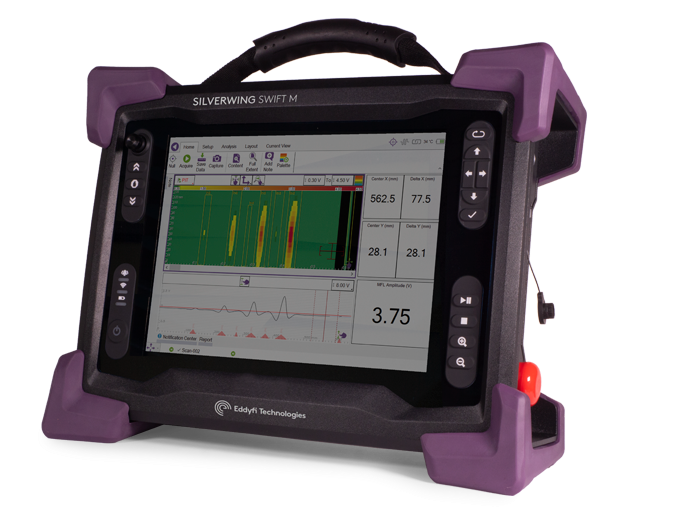 Pipescan HD
The Pipescan HD is the highest resolution MFL scanner on the market. With a high Probability of Detection (PoD), the Pipescan HD is an effective and reliable pipe inspection solution for corrosion and pitting detection.
Pipescan deployment is easy with the unique single curvature adjustment tool allowing for a quick inspection setup. No couplant or complicated gate settings are required, connect the Pipescan to the data acquisition instrument, enter inspection details, and the system is ready to go.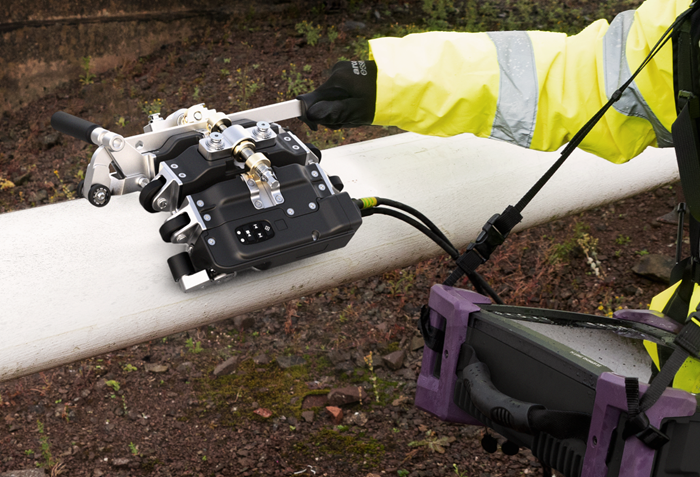 Adjustable Reporting Threshold
Keeping with the goal of a fast and easy to use solution, the Swift-M software has retained the adjustable reporting threshold feature, allowing the user to only report on what is relevant to the work scope. Unlike the previous electronics module, the reporting threshold can be adjusted post-inspection due to the data being recorded.
Report as you go
The Swift-M one-click reporting tool is designed to improve the overall workflow from inspection to report. Defects can be analyzed on the go, at the end of a scan or the end of a job. Once the analysis has been completed simply select generate report then transfer to a USB for distribution.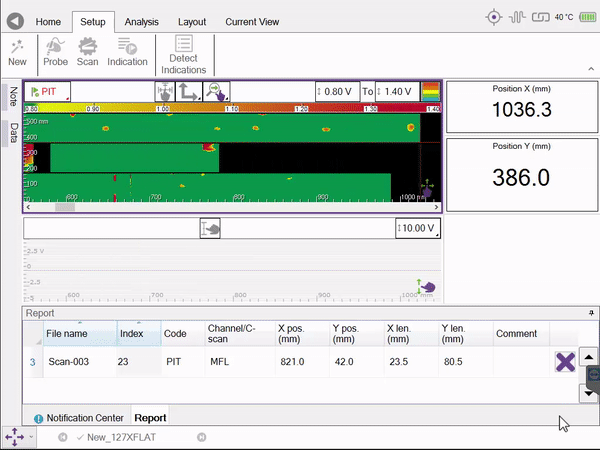 Specification
Dimensions (W × D × H)

355 × 288 × 127 mm (14.0 × 11.3 × 5.0 in)

Weight

With batteries: 6.6 kg (14.5 lb)
Without batteries: 5.7 kg (12.5 lb)

Volume
Power requirements
Power supply

Direct VAC or onboard batteries

Batteries

Li-ion, rechargeable, DOT compliant
Typical life 6-8 hours

Display

26.4 cm (10.4 in)
Non-reflective (AR coating)
Anti-fingerprint (oleophobic coating)
3 mm (0.12 in), strenghtened glass cover
Optically bonded LCD and touchscreen

Storage
Connectivity

Gigabit Ethernet, Wi-Fi™, Bluetooth®, USB 2.0 (×3)

IP rating
Operating temperature
Operating humidity