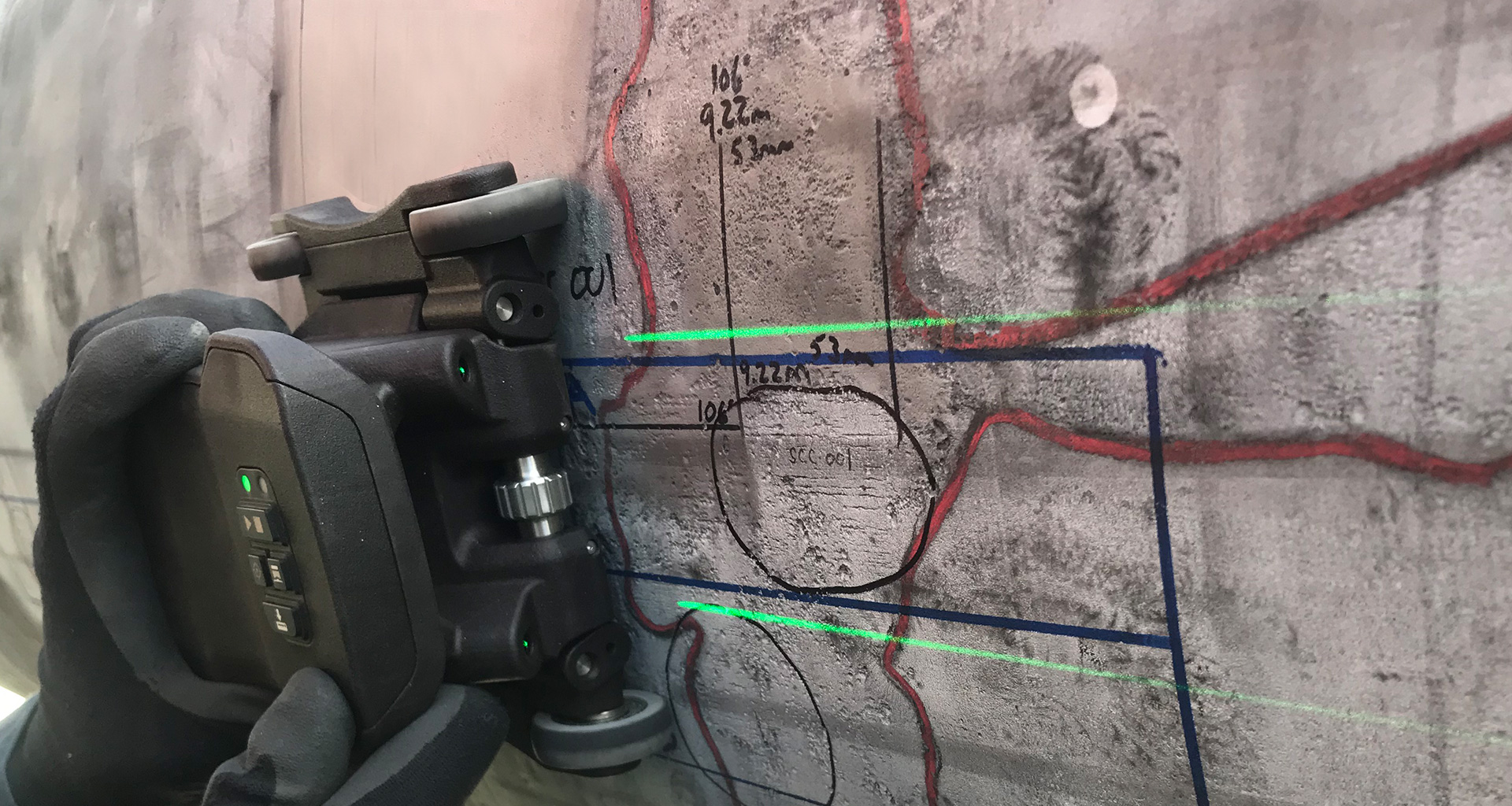 The innovative design of the patented Sharck™ HR probe is ideally suited for in-ditch direct assessment of surface-breaking cracks including Stress Corrosion Cracking (SCC), Hydrogen Induced Cracks (HIC), fatigue cracks, lack of fusion along ERW and A.O. Smith welds, hook cracks, and various other defect types.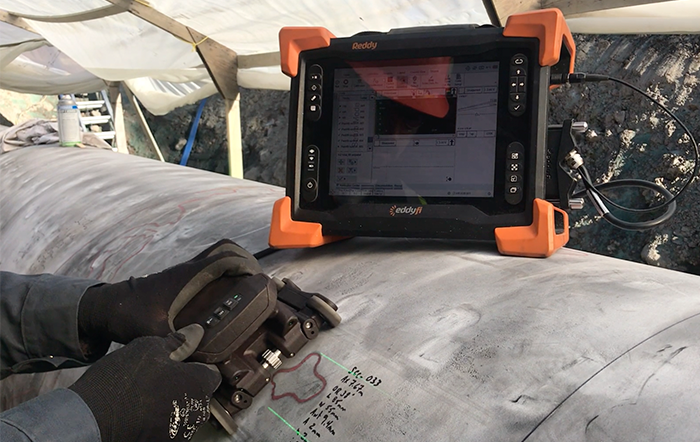 Introducing Sharck HR
The Sharck HR solution has been specifically designed for the depth sizing of surface-breaking linear indications found in carbon steel pipelines.
An Eddy Current Array (ECA) solution unlike any other combines Eddyfi patented coil topology, Tangential Eddy Current Array (TECA)TM technology, and advanced sharpening image processing to bring accuracy, reliability, and repeatability to in-ditch pipeline direct assessment.
Both the TECA topology and the sharpening process are unique to Eddyfi. When combined, they provide the most advanced and trusted crack measurement tools available.
Tangential Eddy Current Array
TECA produces a very particular Eddy Current (EC) signature, which is the key factor in making this tool deliver such high accuracy on crack depth sizing in carbon steel.
When correctly calibrated, crack signals present unique characteristics:
horizontal and flat liftoff signal.
crack-like features nearly orthogonal with liftoff.
for a given liftoff, crack-like indications have the same phase; only the amplitude changes with depth.
From there, any operating point in the impedance plane corresponds to a specific combination of a given crack depth linked to a precise amount of liftoff measured during an acquisition – the final result is like applying a dynamic compensation for liftoff on depth sizing.
In addition to this, the TECA configuration used in the Sharck HR also allows compensation for property changes in the pipeline, mainly for permeability changes, a factor very often ignored by basic Eddy Current systems, which significantly impacts depth sizing accuracy.
Sharpening Process
Sharpening is an advanced process specially developed with Sharck HR to address high density SCC colonies. Such a process can only be applied on a C-Scan view and sharpens the physical resolution provided by TECA elements alone.
It provides a much higher resolution on C-Scans, better crack definition, but ultimately, this process's main benefit is delivering an accurate depth sizing, whatever the colonies density.
Without sharpening it is pure physics, so when an individual channel in a standard ECA probe detects multiple cracks simultaneously its signal is "boosted," which overestimates the depth reported.
Without sharpening being applied, depth reading starts to be overestimated when cracks are circumferentially distanced by 3 mm (0.12 in). This number drops to 1 mm (0.04 in) by adding sharpening, which assesses all colonies found on pipelines manageable. Adding speed, unprecedented repeatability, and ease of use make this the most efficient tool available for rapid, in-ditch crack assessment.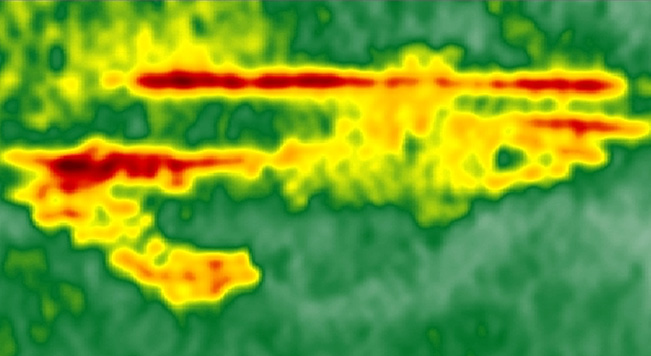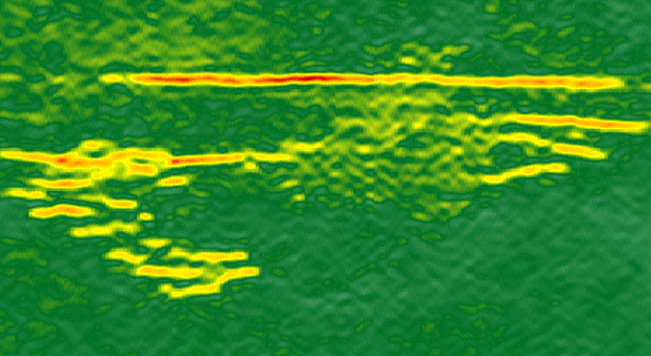 Performance Benefits
Speed: 600 mm/sec (24 in/sec)
Min. detectable crack: 1.5 mm (0.06 in) long x 0.25 mm (0.01 in) deep
Max. measurable depth: 3 mm (0.12 in)
Axial resolution: Can resolve cracks 1 mm (0.04 in) apart
Circumferential resolution: Can resolve cracks 1 mm (0.04 in) apart
Depth sizing accuracy: +/- 10-15%
Dynamic lift-off compensation up to 1 mm (0.04 in)
Permeability compensation (X42 to X70)
Features
Ergonomic design
Up to 60 elements/coverage 75 mm (3 in)
Ceramic spring loaded fingers
Pipe diameter range: 152 mm (6 in) in up to flat surface (axial and circ. scans)
Control buttons
Embedded spring-loaded encoder
Guidance Laser
Cable length: 5 m (16 ft)
Crack-like Indications
Sharck HR is the perfect tool for in-ditch direct assessment of pipelines. Unrivaled performance for accuracy of depth sizing and characterization of all surface-breaking linear indications.
Stress Corrosion Cracking (SCC)
Circumferential SCC (CSCC)
Hydrogen Induced Cracking (HIC)
Fatigue cracks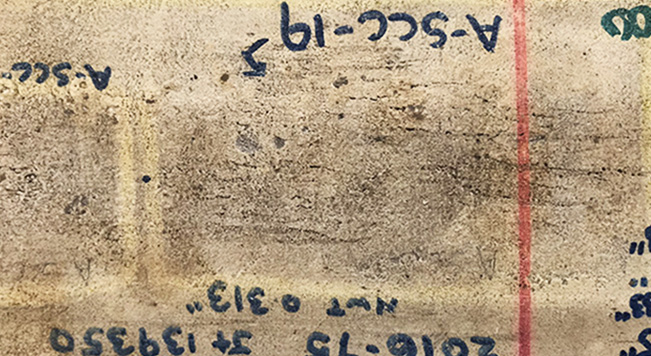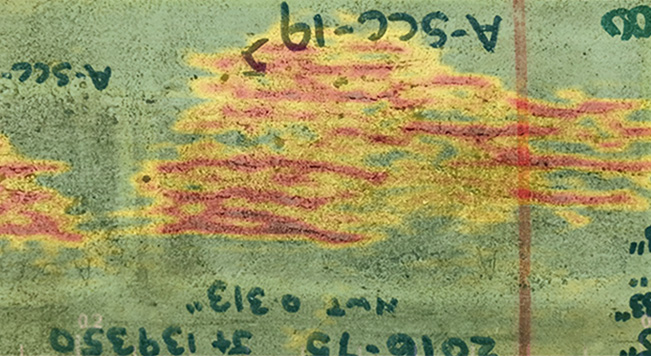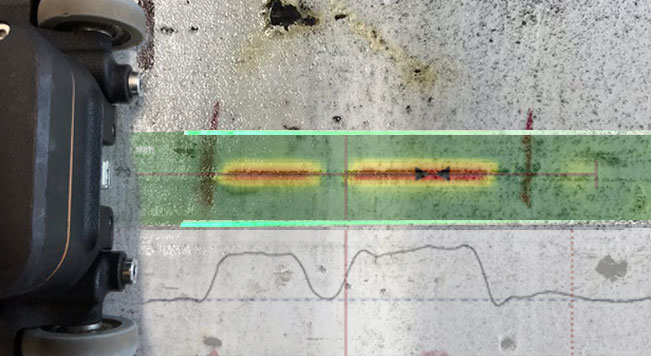 HR 60 Model
Compatible instruments
Reddy or Ectane2 with 64 channels or more
What it's for
Detection and depth sizing of:

Stress Corrosion Cracking (axial, circ, along DSAW welds, in dents)
Fatigue cracks
ERW welds (LOF, hook and fatigue cracks)
A.O Smith flash welds (LOF, cold weld, stitching)

Pipe diameter range
254 mm (10 in) up to flat surface (axial and circ. scans)
Coverage
75 mm (3 in)
No. of elements
60
Frequency
100 kHz (fixed)
Cable length
5 m (16 ft)
HR33 Model
Compatible instruments
Reddy or Ectane2 with 64 channels or more
What it's for
Detection and depth sizing of:

Stress Corrosion Cracking (axial, circ, along DSAW welds, in dents)
Fatigue cracks
ERW welds (LOF, hook and fatigue cracks)
A.O Smith flash welds (LOF, cold weld, stitching)

Pipe diameter range
152 mm (6 in) up to flat surface (axial and circ. scans)
Coverage
37 mm (1.5 in)
No. of elements
33
Frequency
100 kHz (fixed)
Cable length
5 m (16 ft)
Compatible instruments
Reddy or Ectane2 with 32 channels or more
What it's for
Isolated cracks and/or located in restricted access:

SCC in deep dents
SCC Close to girth or spiral welds
Long cracks at seam weld toes

Frequency
100 kHz (fixed)
Cable length
5 m (16 ft)