Remote Access Ultrasonic Crawler.
up to 180 mm/sec (7 in/sec)
fully integrated auto UT B-SCAN crawler
dry-coupled wheel probe
battery-powered
Scorpion2 dry-coupled remote access ultrasonic crawler system brings major efficiency and data improvements to the inspection of structures such as storage tanks, vessels and offshore installations.
Ultrasonic performance
Scorpion2 is equipped with the best ultrasonic electronics and software the industry has to offer. With its advanced filtering, the system can inspect materials ranging from 5 to 100 mm (0.2 to 4 in) faster and more accurately. The software allows for unique UT gate processing, such as floating and tracking gates, ensuring correct wall thickness measurements under most circumstances.
SCORPION2 Crawler
The battery-power crawler is designed to go where no man can go. Crawler handling is minimized with simple controls and long umbilical, when combined with a speed of up to 180 mm/sec (7 in/sec), allow the completions of inspections faster and more efficiently.
KEY FEATURES:
up to 180 mm/sec (7 in/sec)
active steer for auto-correcting straight line driving
drive over 12 mm step even in damp conditions
dry contact probe – no couplant required
programmable scan length and pattern
inspect within 25 mm of weldments (HAZ)
manual joystick control
4 Permanent magnetic drive wheels
battery powered for easy use
3 component system, Scorpion2, UTLite2 and umbilical
SWIFT-UT Instrument
With a large 26.4 cm (10.4 in) non-reflective, touchscreen display, Swift-UT provides clear views under any lighting conditions.
It has a powerful integrated ultrasonic card and seamlessly works with the dedicated B-SCAN software. Setting up ultrasonic and inspection details has never been this easy.
Swift-UT is sealed and designed for IP65. Its magnesium alloy casing is tough, and is water and dust resistant. Combined with a 3mm (1/8 in) strengthened glass, it's the perfect instrument for harsh environmental conditions.
Swift-UT comes with two lithium-ion, hot-swappable batteries, allowing for a full day's work.
Swift-UT has an optional harness to support the use of the system for longer period of time. The adjustable stand, the top handle, and four corner anchor points make it practical for on-site inspections.
Probe Design & Probe Carriage
Silverwing's unique dry-coupled ultrasonic wheel probe eliminates the need for couplant or a constant water supply. The probe is designed as a twin crystal ultrasonic probe with a unique rolling probe face.
The probe carriage allows the system to record thickness measurements within 25 mm (1 in) of a weld cap to inspect the critical heat affected zone (HAZ). The four independently-powered magnetic drive wheels with treaded tires give Scorpion2 the advantage of being able to easily drive over 12 mm (0.47 in) and provide grip under any conditions.
Active Probe Lift And Balance & Battery-Powered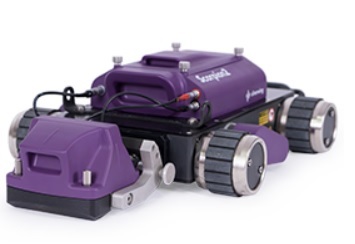 Unique feature to Scorpion2, the active probe lift raises the wheel probe when measurements are not being recorded, extending the life span of the probe's tire. Probe balance makes it easier to setup the probe pre-inspection, reducing time whilst increasing inspection repeatability.
Scorpion2 comes with two lithium-ion batteries, allowing for continuous on-site operation. The battery is mounted on board the crawler, removing the need for a separate battery pack on the ground, thus reducing umbilical and overall system weight.
Data Acquisition Software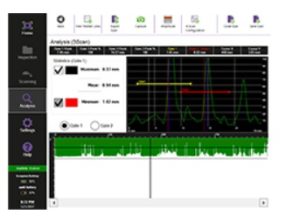 Swift-UT B-SCAN data acquisition software features several powerful data review, reporting and printing tools. Saved data can be reviewed at any time with active A-SCAN and B-SCAN displays. Placing the cursor over any part of the B-SCAN profile shows the A-SCAN trace for that specific section of the scan.
An adjustable reporting threshold indicator can be displayed over the B-SCAN profile, helping to identify reportable defects at a glance and allowing rapid analysis of the complete scan. The full amplitude B-SCAN mode helps to characterize wall loss which in turn allows for a more detailed post-inspection analysis and accurate corrosion assessment.
Inspection data can simply be exported as CSV, A-SCAN and B-SCAN images or as CMX files which can be imported into CMAP inspection management software. When importing into CMAP, all scans are automatically positioned based on X, Y coordinates, providing a complete overview of the inspection.
EEMUA (Engineering Equipment and Materials Users Association) & API (American Petroleum Institute) Recommendations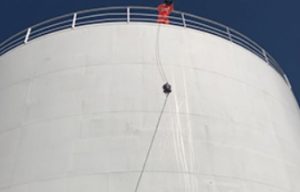 Traditional techniques of random tank shell thickness measurements can be very misleading due to the low Probability of Detection (POD) and may lead to incomplete corrosion rate calculations. As recommended by EEMUA, the Scorpion2 records thickness measurements along a vertical line even in the critical Heat Affected Zone (HAZ) meaning a higher POD resulting in a more accurate corrosion assessment.
EEMUA states that walking on tank roofs can be hazardous if the condition is not known. The condition and thickness of the roof plates should be confirmed before access is permitted. The Scorpion2 can remotely record thickness measurements reducing the need for roof access.