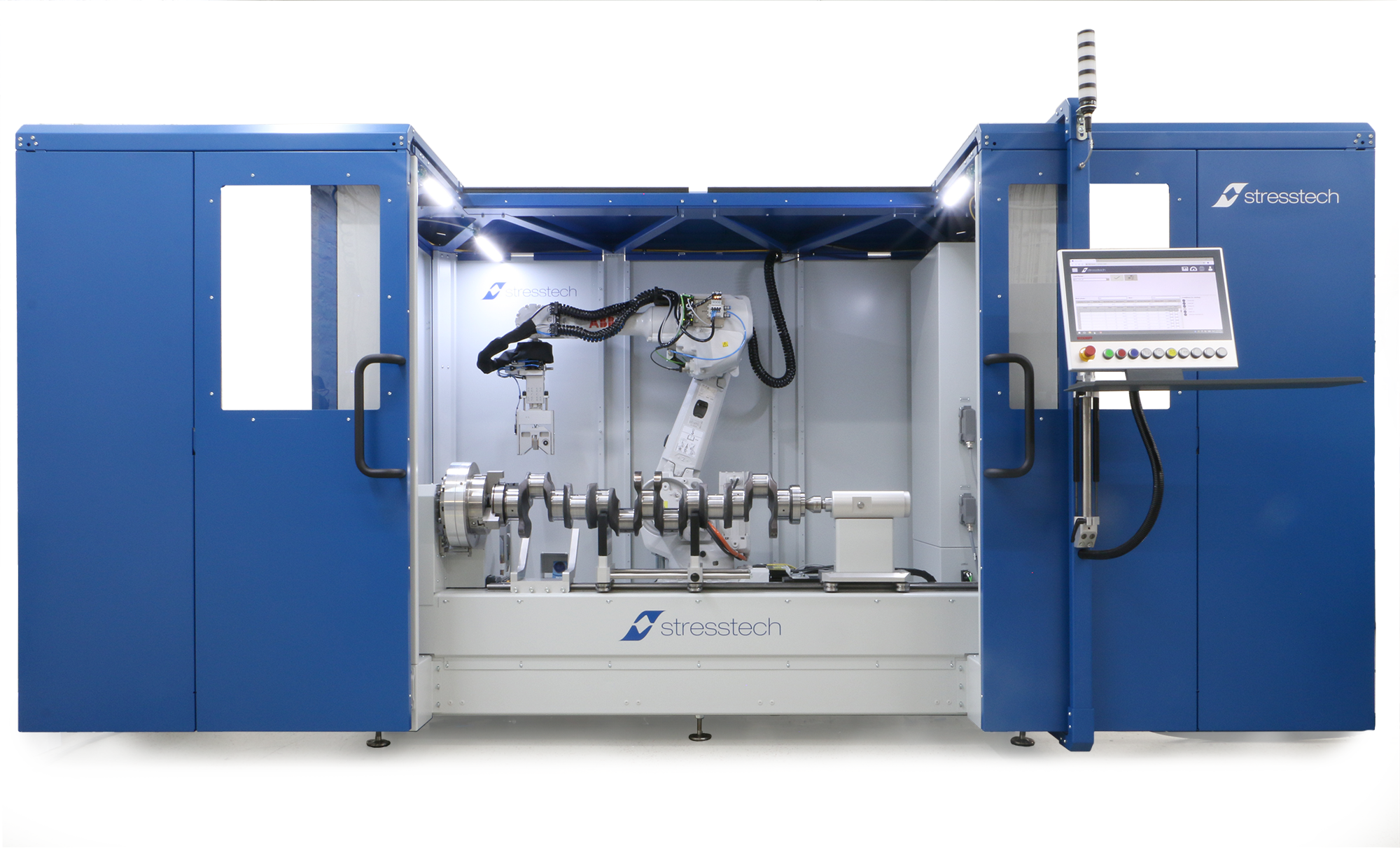 RoboScan M is designed for the quality control needs of small to large sized circular symmetrical parts like passenger car and truck shafts.
RoboScan M provides fast and flexible measurements with high repeatability for horizontally oriented parts up to 1500 mm long.
Operator friendly user interface with two different software options
Free access for part clamping allows ergonomic working position
Fast measurement cycles even for inline measurements
Standard Features
Enclosure
The robot is located inside the safety enclosure which houses the entire measurement movement system. The safety enclosure is equipped with an emergency stop system, two safety doors at the front and one safety (service) door on the left side to access the sensor storage rack for sensor maintenance. The electric cabinet is integrated to enclosure.
Robot
ABB Industrial Robot
ABB Robot Controller
ABB Teach Pendant
Measurement programming software
The measurement programming software takes care of running the robot when programs are created. Creating measurement programs is made easy. The measurement programming software is connected with our ViewScan measurement data analyzing program. The measurement programming software depends on the part to be measured. As standard, there are two options:

Stresstech Teaching App: suitable for vertically oriented parts like hypoid gears, bearings
HTML-based human-machine interface: Suitable for shafts e.g. for measuring camshafts lobes and crankshaft journals.

Three (3) ready made measurement programs are included with the standard system. More programs can be purchased as options.
Part indexing
Laser indexing/Infrared camera indexing for sample orientation definition.
Shaft bed
The system has a movable sample bed on the guide rail to support the shaft, while preparing for the measurement. The distance between the supports is adjustable. The bed is equipped with easily exchangeable support V-blocks.
Controls
Touch screen with integrated control panel including following buttons:

Emergency Stop push button
Start
Stop
Acknowledge/reset safety
Door lock/unlock
System initialization
Interrupt measuring
Step-by-step mode
3 empty spots for e.g. "Robot home position" option
Horizontal rotation unit with manual chuck
RoboScan M is equipped with an ABB MU-200 motor unit, which rotates the sample. The stand is equipped with a 3-jaw chuck with optional exchangeable custom jaws. Chuck can be replaced with drive head.
Tailstock
The tailstock clamps the part to be measured between the centers automatically when the safety enclosure doors are closed and a measurement has begun. The whole tailstock is moved automatically on the linear guide for adjusting to samples of different lengths.
Keyboard and monitor mount
Ergonomic keyboard and monitor mount can be adjusted for each operator.
Signal light tower
Factory acceptance test
Documentation in English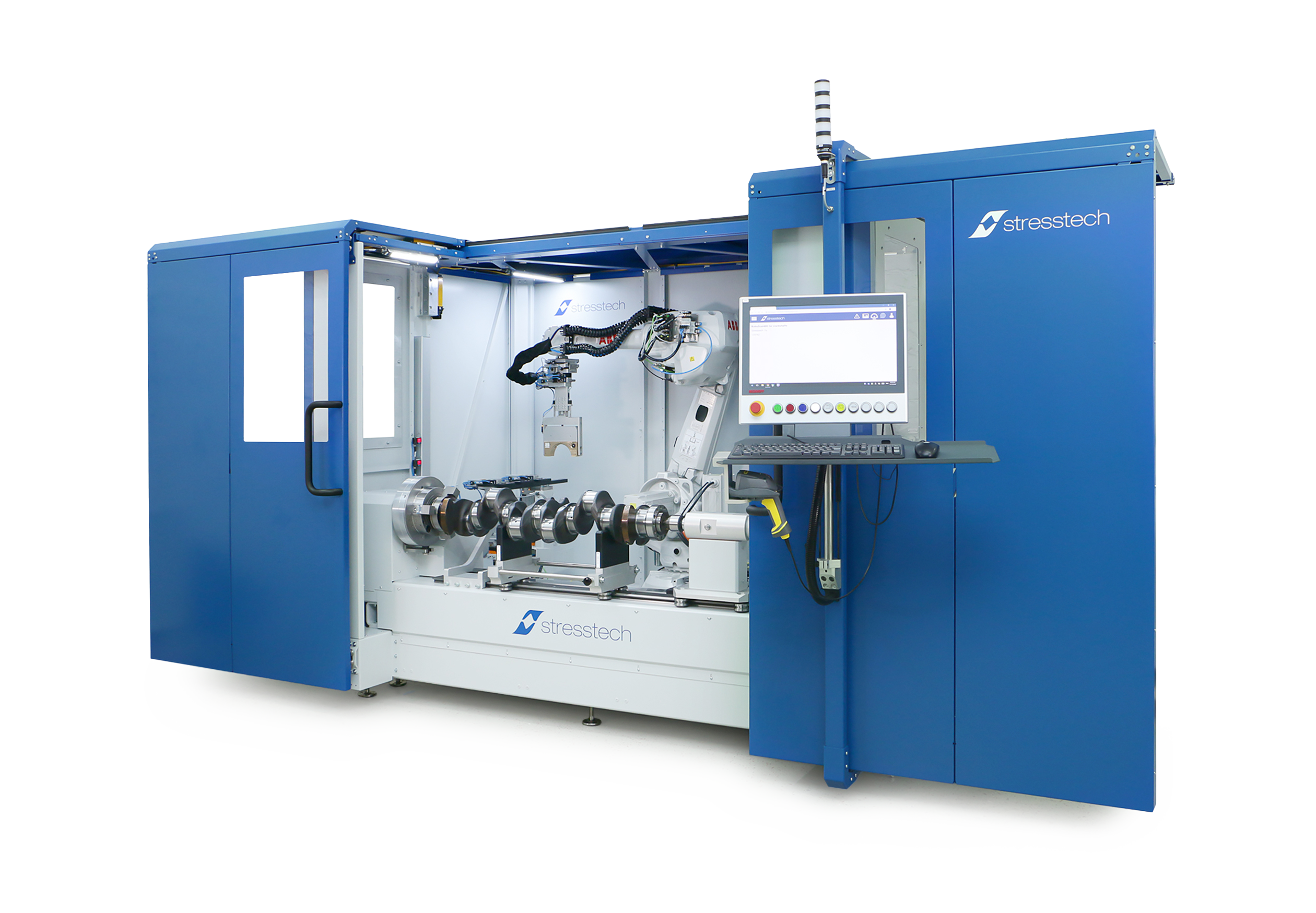 Mandatory Accessories
Analyzer
Data analyzing software
Industrial PC and monitor
Sensor and sensor fixture for each sensor:
Manual
Automated (Automated sensors require storage rack. See options page for storage racks.)
Barkhausen noise sensors are available in many different types, shapes, and sizes. Sensors are completely customizable to suit any operation. All sensors require sensor fixture, in-built or fixable.
For RoboScan, there are manual and automated sensor fixtures available depending on sensor type and automation level of the system. Sensor fixtures have proximity switches for crash detection. The crash detection switch is activated if the sensor's inward linear movement is too large. One fixture, depending on the solution, can be equipped up to 2 sensors for multichannel measurements.
Advanced design in sensor fixtures guarantees steady contact between the sensor and the part to be measured. Measurement contact is one of the most critical factors when performing Barkhausen noise measurement.