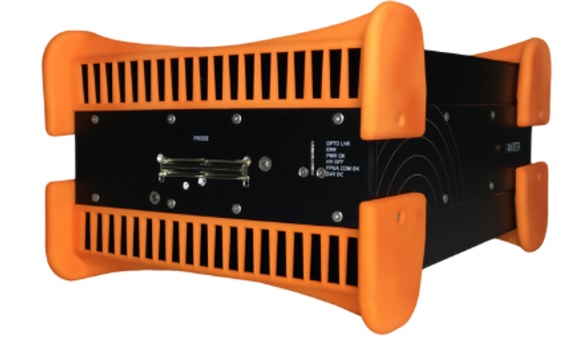 M2M Panther™ combines the speed required for industrial integrated Phased Array Ultrasound (PAUT) solutions, with the most complete set of Total Focusing Method (TFM) imaging techniques, making it the ultimate tool for R&D and procedure qualification.
The Ultimate PAUT/TFM Imaging Machine
M2M Panther™ is a phased array equipment designed for both desktop and industrial applications, offering unparalleled performance in a compact unit. Combined with its operating software Acquire, Panther is today the fastest and most versatile PAUT/TFM offering of the market.
Advanced Phased Array Modes
Acquire is M2M's up-to-date acquisition software dedicated to advanced PAUT, TFM settings and imaging. Acquire software has been designed for both industrial applications and laboratory demonstration.
Advanced Analysis
Acquire's inspection data files are fully compatible with both CIVA and ULTIS analysis software.
The add-on extends standards Acquire views (A-B-S-D-C-scans + Top, Side, Front views cumulated, TFM & 3D views) to 3D merging of data, automatic analysis, and advanced reporting. In addition to real-time TFM imaging, full waveform FMC data acquired by Panther can also be post-processed by CIVA analysis add-on.
Specifications
Dimensions (L × W × H)

300 × 220 × 155 mm (11.8 × 8.7 × 6.1 in)

Operating temperature range
Storage temperature range
Weight
IP54
Power supply

240 V (50 Hz)–110 V (60 Hz)
PHASED ARRAY
Scalable up to 16 Panther units | Max. single aperture  – 256 channels
Delay-law computation for standard and parametric shapes (plates, cylinders, Butt welds, T K & Y welds, elbow, nozzle, turbine blade, nozzles,…) as well as 2D and 3D CAD
Linear, matrix, DLA and DMA, Annular and Daisy probes
Unlimited probe number | No group limitation | Up to 13100 focal laws
Linear scanning, sectorial scanning, parallel shooting, ultrafast mixed modes
Focusing modes: True depth, sound path, projection
REAL-TIME TFM, FMC, PWI
| | |
| --- | --- |
| Reconstruction channels | |
| Max. refresh rate | Up to 500 fps (depends on the pixel numbers) |
| Max. number of pixels for the reconstructed image | |
| Multiple sound paths | Direct (L or S), indirect and converted modes, modes superposition |
PULSERS-128 PHASED ARRAY CHANNELS
| | |
| --- | --- |
| Bipolar square pulse, width | |
| Voltage amplitude | |
| Max. PRF | |
RECEIVER-128 PHASED ARRAY CHANNELS
Input impedance
Frequency range
Max. input signal
Gain

Up to 120 dB (0.1 dB step)

Cross-talk between channels < 50 dB
Ultralow noise amplifier
DIGITIZER
Digitizing and real-time summation on 128 channels
IIR filters
Resolution: 14 bit | Dynamic: 16 bit
Max. sampling frequency: 125 MHz
Digitizing depth up to 16 k points
Max. A-scan range 65 k points
ACQUISITION
A-scan/Peak data recording
High-speed FMC recording (320 MB/s)
Acquisition trigger on time, event, encoder
Inspection data file size: Hard drive limitation
Data transfer through USB3
WIZARDS
CAD overlay and 3D view
Real-time phased array calculator
Amplitude calibration (TCG, DAC)
Wedge calibration (angle/height)
Probe design | Weld geometry design
Part geometry with parametric shapes (plates, cylinders, Butt welds, T K & Y welds, elbow, nozzle, turbine blade, nozzles,…) as well as 2D and 3D CAD
ANALYSIS
A-scan, B-scan, C-scan, D-scan, echodynamic, Top, Side and Front view
3D view, analysis gates
Post-processing of TFM reconstruction FMC/PWI data acquisition processing in CAD geometry
Compatible with Enlight, Enlight+, CIVA and ULTIS software
CAD part geometry: Plate, cylinder, T or Y section, nozzle
CAD Butt weld geometry
Customizable inspection report
Amplitude range: Up to 800%
I/O
1 × IPEX connector for phased array (can be upgraded to 2 with splitter)
4 x LEMO® 00 for PANTHER 32:128, 64:128 and 128:128 Units – 2 x LEMO® for PANTHER 64:64 l 3 x encoder inputs
1 × USB 3.0 high-speed link
1 × ultra high-speed summation port (for summation between modules)