In our offer you can find hand-held, portable and stationary UV Lamp.
Technical information about hand-held and portable UV Lamps.
Calibration to fulfil Rolls-Royce specification RRES 90061 Rev. 0 and also ASTM E3022 with certificate is possible. . (*) Please put this requirement to your request for quotation or purchase order.
MR 974 Quattro-Light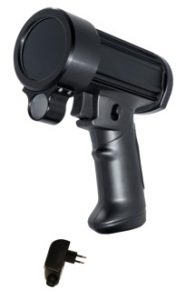 Small and handy UV lamp – 4x UV high performance LED
Wavelength (nm): 365 ± 3
UVA Powerful: approx. 45 W/m² (± 10%)
Wide Light distribution: Light cone Ø 20 cm
White light < 5lux
1x white light LED for orientation
No blinding effect – reduced white light emission (diffuse)
Auto-Switch – Automatic switching from UV to white light
Dimensions: 150x180mm (L x H), Ø 70mm
Weight: approx. 400g
Cable: 5m
Power supply: 100-230V AC, 50-60 HZ, 12V DC
*Certificate of conformance of fulfilled Rolls-Royce specification RRES 90061 Rev. 0 and also ASTM E3022
MR 974 AN Quattro-Light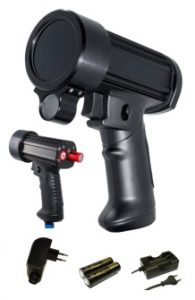 Small and handy UV-LED-Lamp for battery and mains operation
4 x UV high performance LED
Wavelength (nm): 365 ± 3
UVA Powerful: approx. 45 W/m² (± 10%)
Wide Light distribution: Light cone Ø 20 cm
White light < 5lux
1x white light LED for orientation
No blinding effect – reduced white light emission (diffuse)
Auto-Switch – Automatic switching from UV to white light
Dimensions: 150x180mm (L x H), Ø 70mm
Weight: approx. 600g
Cable: 5m
Power supply: 100-230V AC, 50-60 HZ, 12V DC
Battery operation: 2 x Li-Io battery 3,7 V, ca. 3400 mA/h
* Certificate of conformance of fulfilled Rolls-Royce specification RRES 90061 Rev. 0 and also ASTM E3022
MR 970 Basic-Light 
Small and handy UV lamp – 4x UV high performance LED
Wavelength (nm): 365 ± 3
UVA Powerful: approx. 45 W/m² (± 10%)
Wide Light distribution: Light cone Ø 20 cm
White light < 5lux
No blinding effect – reduced white light emission (diffuse)
Auto-Switch – Automatic switching from UV to white light
Dimensions: 150x180mm (L x H), Ø 70mm
Weight: approx. 400g
Cable: 1,5m connection cable + 2 m extension cable
Power supply: 100-230V AC, 50-60 HZ, 12V DC
* Certificate of conformance of fulfilled Rolls-Royce specification RRES 90061 Rev. 0 and also ASTM E3022
MR 42 Super LED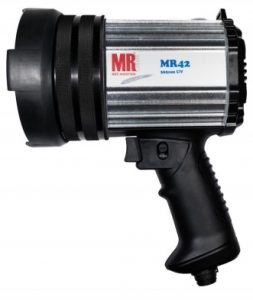 UV LED lamp – 5 high class UV LEDs
Wavelength (nm): 365 ± 3
UVA Powerful: 25 do 120 W/m² / 25 do 80 W/m²
3 lamp versions are available. UVA distribution:
Ø 24 cm 10°
Ø 28 cm 30°
Ø 28 cm 30° continuous UV
White light < 5lux
1x white light LED for orientation
Dimensions: L=160mm
Φ = 105mm
Weight: approx. 900g
Cable: 5m
Power supply: 110V AC-230V AC 12V DC
MR 98 WAN Brilliant LED

UV LED lamp – 5 high class UV LEDs
Wavelength (nm): 365 ± 3
3-step-switch for UV regulation
UVA Powerful: 25 to 120 W/m² / 25 to 45 W/m² (depending on UV position and lamp version)
3 lamp versions are available. UVA distribution:
Ø 24 cm 10°
Ø 28 cm 30°
Ø 28 cm 30° continuous UV
White light < 5lux
1x white light LED for orientation
Dimensions: L=180mm
Φ = 110mm
Weight: approx. 1220g
Power supply: 100-230V AC, 50-60 HZ, 12V DC
Battery operation: Li-Io battery 7,4 V, ca. 6600 mA/h – Battery will not be charged during power supply operation.
* Certificate of conformance of fulfilled Rolls-Royce specification RRES 90061 Rev. 0 and also ASTM E3022
MR 365 PL
UV-LED-Pocketlamp– 9 d LED
Wavelength (nm): 365 ± 3
UVA * :
Distance 5 cm: >50 W/m2
Distance 10 cm: >20 W/m2
Distance 20 cm: >10 W/m2
UV-Spot Ø:
Distance 5 cm: ok. 35mm
Distance 10 cm: ok. 45mm
Distance 20 cm: ok. 60mm
Service live UV LED (h): 10000
Dimensions: L= 95mm, Φ = 28mm
Weight: 150g incl. batteries
Battery operation: 3 x 1,5V AAA
Risk class acc. to EM6 DGZfP/BGFE: 2