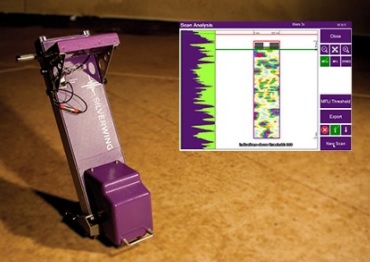 Silverwing is world renowned for its advanced Magnetic Flux Leakage (MFL) tank bottom scanning systems, with our mapping Floormap3Di established as the industry benchmark. However, Silverwing recognizes that full tank mapping is not always required and there is also a requirement for rapid MFL screening combined with ultrasonic defect sizing.
The MFLi3000 has been designed to meet this demand by bringing together the advanced defect detection capability of our Floormap systems with a simple to use stop on defect scanner system.
Together these innovative features achieve significant advances in corrosion measurement, with the potential to reduce inspection times and significantly enhance the quality of a tank inspection. This enables tank engineers to determine the optimum repair strategy and improve the outcome of Fitness For Service (FFS) assessments, Remaining Life Assessment (RLA), and Risk Based Inspection (RBI) programs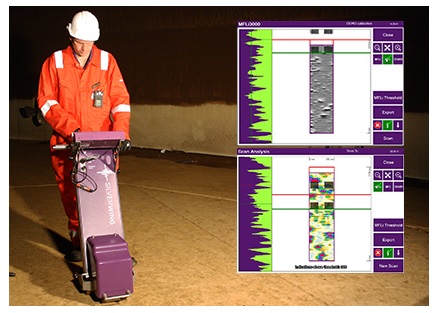 KEY FEATURES:
MFL Scanner with 12″, 64 channel MFL head, total 256 sensors
touch screen ruggedized tablet computer for display and control
digital calibration with store/recall
motorised with speed control – 20 inches per second
real Time Scan (RTS) view of surface for assessing corrosion whilst scanning
MFLi plate view for scan analysis with adjustable threshold
STARS top surface view displaying top side corrosion
autostop, stop on defect capability with adjustable threshold
through coating inspection up to 1/4″ incl FRP, GRP and SS
export of scan images to USB key
Floormap3Di upgrade path
ON BOARD SOFTWARE FUNCTIONS:
immediate display of plate inspection data
pan and zoom in on defects
C-scan / MFL and STARS views
advanced MFL signal processing for improved defect accuracy
individual calibrations per plate to handle different plate thickness (main area, annulars)
touch screen display works with gloves
High Productivity And Accuracy 
The MFLi3000 is designed to increase productivity by providing the technician with powerful yet simple analysis tools.
The flexible system adapts to the testing procedures being used, whether it be monitoring a real time display, automatically stopping on a defect or reviewing a whole scan at the end of a run.
Real Time Scan View 
The Real Time Scan (RTS) displays an MFL view of the plate, either colour coded to show the magnitude of MFL response, or set to a simple black/white view of indications above a threshold.
The technician can watch the screen during a scan to see where corrosion is present.
The information is also recorded so once the scanner stops the image remains on screen, removing the need to scan back and forwards over a suspect area.
In the scan mode the Autostop feature can be enabled to stop the scanner whenever an indication goes above a set threshold.
The user then sees an image of the last 40″ scanned helping with ultrasonic or pit gauge prove up.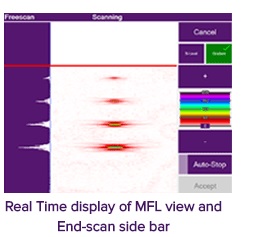 Surface Profile With STARS Technology 
The innovative STARS technology adds an additional 64 channel sensor array to detect variations in magnetic field strength caused by top side defects.
Once a scan is complete the technician can switch to the STARS view to identify top side defects, extremely useful for coated tank floors where it's not obvious without removing the coating on which side the of the plate the corrosion is originating.
This significantly speeds up the inspection and reporting process and allows engineers to determine an appropriate repair strategy.
STARS works effectively up to 1/4″ (6.35 mm) of coating.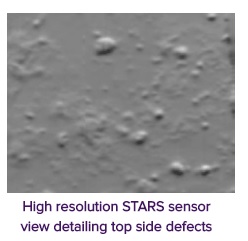 MFLi View 
The MFLi3000 introduces a new high contrast plate view based on the intensity of MFL signal response.
The MFLi defect map uses multiple colour palettes to highlight areas of corrosion, reduce the effect of spurious indications, and most importantly to help classify defect type. A quick review at the end of each scan gives the technician information about the plate condition and the type of corrosion if any is found.
This powerful detection and classification tool can reveal the presence of small diameter pitting, SRB attack, erosion patterns and other features that require further verification.
The MFLi3000 also has a unique defect detection algorithm that displays the number of indications above the set threshold, and an End-scan view to show where they exist along the scan for rapid review.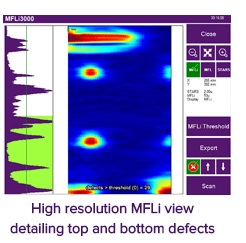 Saving Scan Images 
The MFLi3000 does not have full data recording and mapping, but still allows the technician to save particular scans of interest with additional notes.
These scans are stored in standard PNG image format that can be viewed with many word processing and image software applications. This gives an added level of confidence to reports, showing corrosion patterns in addition to the normal thickness record given by manual prove up.
Calibration Routine 
The MFLi3000 system has a digital calibration system for easy setup, along with traceability of the settings for reporting.
The technician can use either a Silverwing calibration plate or any plate with indications in the range of indications to be found.
A visual graph for threshold setting and gain confirmation ensures the correct sensitivity is set quickly and easily.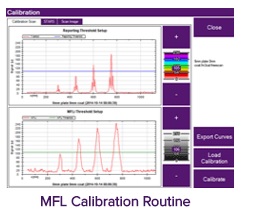 Data Acquisition Software 
The on-board computer uses touch screen technology and a proven user interface for ease of use within the hostile storage tank environment. When an inspection surface is scanned, the MFLi3000 system displays, in real time, all of the corrosion detected.
The real time defect threshold is fully adjustable and is used to display only corrosion above the desired report level. The MFLi3000 still captures all signals so the threshold can be lowered after a scan is complete to reveal any lower level corrosion.
To perform a detailed analysis the operator can select to view MFLi/MFL for corrosion severity or STARS for top surface view, providing instant feedback on tank condition.
The MFLi3000 is unique in that it provides two fully adjustable thresholds that work together to provide unparalleled inspection confidence.
To ensure that no defects are overlooked during the real time scanning the MFLi3000 incorporates a signals of interest indicator. This indicator informs the operator of the location and of how many corrosion defects were recorded above the set threshold. The operator can then return to the corroded area using the MFLi3000's reverse and scan image marker features.
Upgrade Path 
The MFLi3000 sensor head and scanning frame uses the same technology as used by the Floormap3Di advanced mapping system, and can be upgraded with new software and control board to offer full mapping and advanced analysis.
The system can then operate in either Floormap3Di or MFLi3000 mode depending on inspection demands.