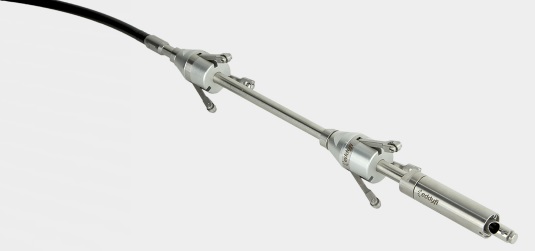 IRIS UT leverage ultrasounds to inspect ferrous and non-ferrous tubing alike. Eddyfi's IRIS UT kits are particularly versatile, precisely detecting corrosion, pitting, and thinning in a wide range of tube diameters and wall thicknesses.
Our IRIS UT kits come with an array of tools to make them the best-quality, best-performing kits on the market.
Top-of-the-Line Focused UT Transducers
We only include the best focused ultrasonic transducers in our IRIS UT kits. They are available in three frequencies adapted for various wall thicknesses, and three different focal lengths optimized for various tube diameters.
Turbines That Give Results
Eddyfi's IRIS UT turbines are engineered to leverage the Ectane® 2's impressive acquisition rate and deliver optimum results for a wide range of rotation speeds. The unique turbine design contributes to significantly reducing bubble formation.
High-Performance Centering Devices
Our IRIS UT kits come with two sets of three-contact-point, spring-loaded arms linked in two directions to ensure perfect centering. The devices are self-contained and removable from the shaft without losing components or pressure in the arms.
Cables
IRIS UT kits can be equipped with an assortment of cables for various types of inspection conditions.
ACCESSORIES:
Included in the IRIS kit are:
2 turbines
4 centering devices
3 transducers
4 cables (20 m)
1 flood tube adapter
1 repair kit
Submersible water pumps and filter units, as well as an encoder for the IRIS kit are sold separately.