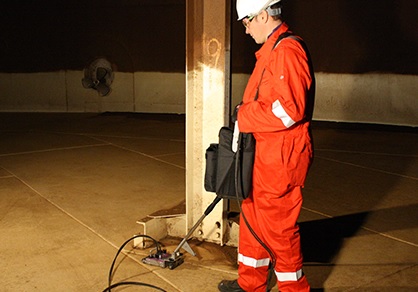 The Handscan MFL corrosion detection mini scanner is designed to compliment the Floormap3Di, MFLi3000, Floormap3D, FloormapVS2i and MFL2000 floorscanners.
Even in such a small configuration the latest generation of permanent magnets enable localized magnetic saturation of the floor area under test.
Signals from corrosion, above the operator controllable threshold, are displayed as both a visual and audible alarm.
It's low profile and extendable handle allow scanning in otherwise inaccessible areas of storage tanks such as the shell to annular area and under pipe work or heater coils.
Inspection data from the Handscan can be manually added into the SIMS reporting software when used in conjunction with the Floormap floor scanners to produce a complete 'fingerprint' of the tank floor condition.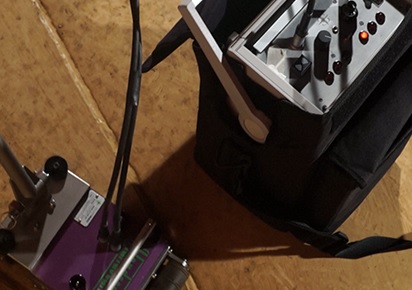 KEY FEATURES:
high POD of corrosion issues
easy to use by semi skilled operator
alternative heads available for internal scanning of small vessels and pipes
ideal solution for small diameter tanks below 15 m with petal design
low Profile with Extendable Handle
suitable for Shell to Annular Areas and Under Pipe Work
latest Generation Permanent Magnet Technology
separate Battery Operated Lightweight MFL Control Module
cost Effective Inspection Tool
How It Works 
The operator first connects the sensor cable between the scanning head and electronics module. Switch on the MFL control module, set the required floor thickness and adjust the alarm sensitivity using a reference pipe with known artificial defects. Then simply push the scanning head and monitor the MFL control module for the audible and visual alarm. Any areas identified by the handscan system can then be marked on the pipe for further analysis by a secondary inspection technique, normally ultrasonics.