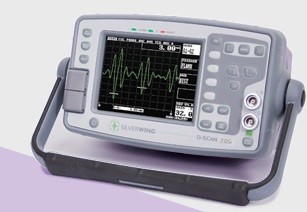 The D-SCAN 701 and 705 units are high performance digital ultrasonic flaw detectors from Silverwing UK. The latest developments in amplifier and pulser technology deliver higher levels of near surface resolution, penetrating power and excellent signal to noise ratio.
Typical applications are weld inspection, corrosion testing, small castings/forgings and lamination checking.
Weld and pipe inspection are major applications for the D-Scan series and we have therefore equipped them with the latest software tools for advanced Defect Sizing Tools as standard. The D-Scan 701 and D-Scan 705 have DAC, AVG, AWS and API sizing techniques. The use of integrated sizing software reduces analysis time and hence speeds inspection. Multiple standard sizing techniques are essential for service companies working to different customer standards, especially as service work becomes more international and operators are required to work to different codes.
KEY FEATURES: 
full Wave Rectification, positive, negative, RF
automatic Gain Control sets selected echo to a user defined level
8000 readings stored in Block/Location/Number coding or alpha-numeric r
ecalled waveform can be shown in a different colour to live waveform for direct comparison
front USB for connection to PC, keyboard & printer
measurement Modes
o Depth
o Echo – Echo
o Gate to Gate
o Trig
o T-Min
High Performance With Total Control
The D-SCAN delivers high performance and advanced features, the user interface has been designed to ensure that the D-SCAN flaw detector is easy and quick to use. The menu structure has been designed to guide the user through their task with operation quickly becoming second nature.
High Visibility Display
For any flaw detector the display is a crucial element. The D-SCAN units have a colour transflective TFT display as standard, providing high visibility at any light level. The choice of colours for menus and waveform display enhance clarity, with the LCD simulation mode giving direct sunlight readability.
D-SCAN 701: Full Featured Broadband Flaw Detector
An enhanced broadband amplifier with all the software features required for operator efficiency and accuracy. These include standard sizing tools, advanced measurement modes, full screen waveform display, thickness reading memory and an automatic calibration feature.
D-SCAN 705: Narrow Band Amplifier For Optimal Performance
Top of the D-SCAN range is the D-SCAN 705. This version includes all the software features of the 701 combined with a narrow band amplifier and TCG (Time Corrected Gain) for more demanding ultrasonic applications. The square wave ActiveEdgeTM pulser automatically optimises for each filter band selected, ensuring maximum performance.
Robust And Reliable
The D Scan series is constructed to exceptionally high standards using Xenoy plastics and sealed to IP67, giving excellent water resistance so it can withstand the tough environments in which operators work.