Capture™ is the streamlined software embedded in M2M Gekko® and Mantis™ portable flaw detectors, and also available for PC. It is dedicated to conventional Ultrasonic Testing (UT), Phased Array UT (PAUT), Time-of-Flight-Diffraction (TOFD), Total Focusing Method (TFM) and Adaptive Total Focusing Method (ATFM). Continuously updated based on industry feedback, be the best inspector you can be.
What's new in Capture 3.2
Multi-group/multi-mode/multi-probe TFM
Enhanced data rendering (envelope + smoothing)
Advanced analysis (corrosion auto-sizing, indication merge, TOFD)
Embedded scan plan
Connectivity (update, report generation,TeamViewer…)
Improved ergonomics (motion, beam balancing, view tools…)
Features
One UT software from setup to reporting
Covers existing PAUT and TOFD procedures
Dedicated wizards for all setups
Analysis made simple
TFM inspection at an industrial scan speed
Compliance with the latest TFM standards
Smart connectivity for remote operation
Innovation driven by market applications
One UT software from setup to reporting
All the same intuitive software tools and features are available in the Gekko and Mantis instruments and the PC version.
Application-oriented templates, step by step setup configuration
Complete probe, wedge, and scanner libraries
Custom probe creation, including DLA/DMA probes
Focal law calculation with linear, matrix, DLA, DMA probes
Scan plan for procedure compliance
Analysis and reporting
Customizable inspection report
Capture offers a quick way to improve knowledge and requires minimal training time for phased array inspectors.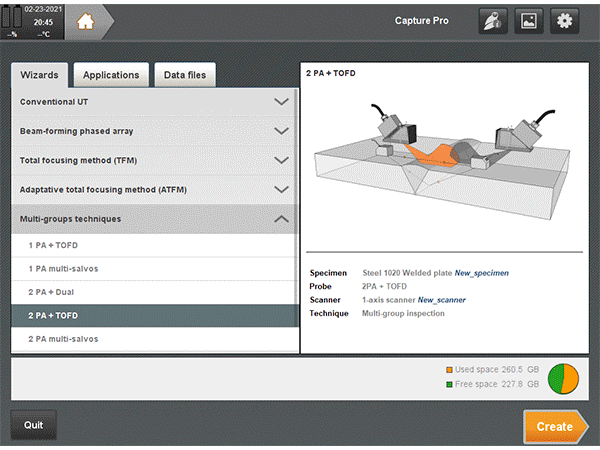 Unique 3-click calibration wizards
Smart calibration wizards fulfill the requirements of your existing procedure:
Part and wedge velocity calibration
Amplitude balancing and dead element check
Best-in-class wedge delay + angle calibration – including AOD/COD wedges
Beam balancing for PAUT sensitivity calibration (ACG)
Innovative TCG calibration – including TFM
Historically, essential calibration steps such as wedge verification and TCG have been complicated and time-consuming. Capture does it accurately, quickly, and efficiently.
TFM for the field – our DNA
Benefiting from over 8 years of experience with TFM in the field, Capture offers:
Multi-probe, multi-group, and multi-mode TFM configurations
Various transmission modes (FMC, sparse, PWI) and FMC recording
Compatible with linear, matrix, DLA, and DMA probes up to 128 elements
Unique grid verification tool compliant with ASME-V / ISO 23865
Typical 1 inch weld inspection from both sides up to 130 mm/sec (5 in/sec)
TFM offers improved data quality allowing more accurate sizing to reduce false calls in full compliance with the latest codes and standards.
Offering advanced solutions
Capture provides advanced solutions through a streamlined workflow.
Nozzle inspection with 3-axis scanner
Fillet welds (T, Y) with multi-skip ray tracing
2.5D DXF overlay import
Embedded scanner controls for the RMS PA, R-Scan Array, and LYNCS
Paintbrush 2D mapping with 3-axis rotating arm
Unique Adaptive TFM (ATFM) solution for wavy surfaces
For these advanced inspections, Capture provides a higher Probability of Detection (POD) with improved and faster defect characterization.
Analysis made simple
Capture offers all the tools necessary for efficient and reliable data analysis.
Complete set of views and custom layout edition
Advanced readings banner
Easy cursors adjustment
Accurate geometry display for better assessment
Auto-detection and sizing for corrosion and weld
Advanced reporting tools, customizable indication table
Data stitching and export (PDF and Excel)
Capture remains focused on simplifying analysis to improve sizing and accuracy, increase productivity and repeatability while respecting code inspection requirements.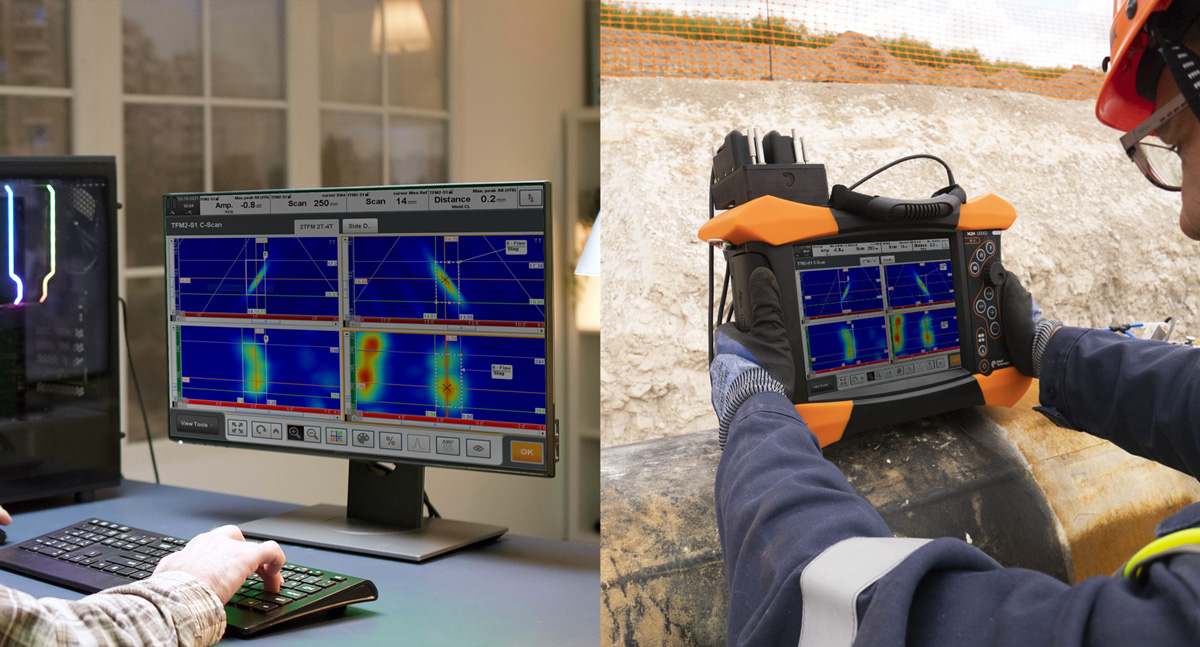 Connect your Capture
Capture offers full connectivity with lean data management for both devices and PC.
Version manager & remote update from the cloud
Easy file management and remote control through ethernet/wireless
Multi-instant Capture PC
Compatible with analysis software (CIVA Analysis, Ultis, NTPlot…)
Remote control and data management allow Capture to be connected to ease your daily inspection.