Would You like to receive a quote for ACFM equipment?
Send a quick form, email at ndt@casp.pl or call at +48 728 929 353
Alternating Current Field Measurement (ACFM®)
Detection and Sizing of Surface Cracks in Metals Through Coatings
Alternating current field measurement (ACFM) is an electromagnetic inspection technique that introduces an alternating current into the surface of a component to detect surface-breaking cracks.
The presence of a crack disturbs the electromagnetic field and the return signal is instantaneously converted by advanced mathematical techniques so that operators are alerted to the presence of defects.
Immediate defect sizing and recording is a major benefit compared to other NDT methods. Results from independent testing shows ACFM matches magnetic particle inspection (MPI) performances when inspecting underwater structural welds. The amount of missed and spurious signals is significantly lower with ACFM compared to MPI and conventional eddy current testing (ECT).
With ACFM's lower cleaning requirements and fewer false calls, inspections are significantly shorter, saving customers money.
SOME OF THE ADVANTAGES OF ACFM
Detection of transverse cracks
Possibility of detecting cracks that extend the full width across a plate
Working through metallic coatings, scale or rust
Can be used on forgings and castings
Detection of sub-surface defects in non-ferrous metals (if they are near the surface)
Detection of defects as small as 2 mm long and 0,3 mm deep (depending on material, surface conditions and probe being used)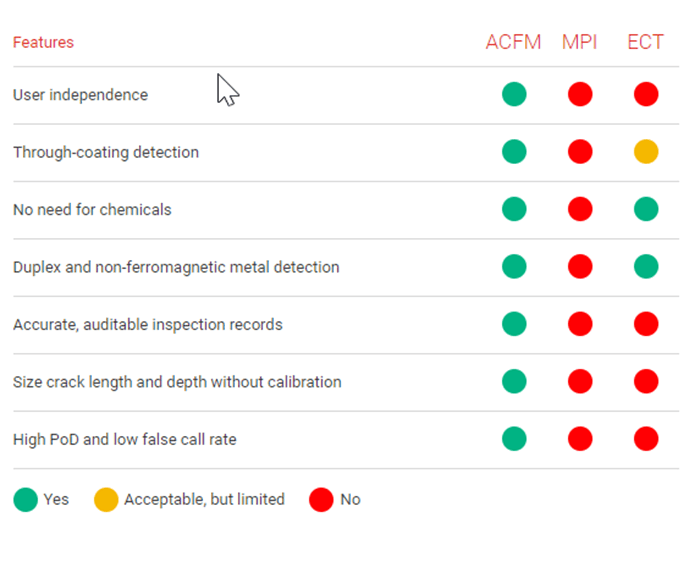 PRODUCERS OF EQUIPMENT AND SYSTEMS FOR ACFM
Regarding ACFM method Casp System Sp. z o. o. is the distributor of solutions from Eddyfi Technologies company.

CONTACT
Our NDT specialists are at Your disposal.
In case of any questions regarding our offer please do not hesitate to contact us, our working hours are monday-friday, between 7:30 and 15:30
Casp System Sp. z o.o.
43-603 Jaworzno, ul. Puszkina 2
NIP: PL 6321873261
+48 32 720 24 04 / +48 32 614 12 29
+48 32 614 09 19 / +48 32 750 56 06
+48 728 929 353
ndt@casp.pl
DISTRIBUTION – ADAPTATION – IMPLEMENTATION – SERVICE
OF NDT EQUIPMENT AND SYSTEMS
A FEW WORDS ABOUT CASP SYSTEM SP. Z O.O.
CASP System company is a well known and respected supplier of equipment and systems from fields such as industrial automation, non destructive testing or research and development.
The company has several departments as well as widely used online stores Manometry24, Czujniki24, Przetworniki24, Enkodery24, Automatyka24, Eh24.pl. During latest years we have expanded our offer considerably and gotten a lot of experience, our personnel is well trained and specialized which is a definite strenght of our company in comparison to our competition. Our additional websites are: WzorceNDT and Aparatura Badawcza

The highest quality of the offered equipment and specialized measurement devices guarantees customer satisfaction and translates into numerous awards that we can proudly display below, for example: